TECHNICAL ARTIST : AVERON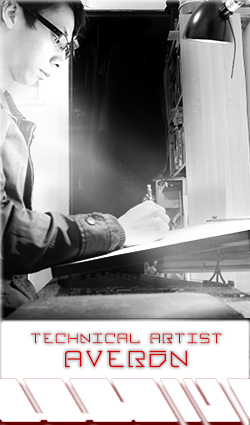 I am a Canadian technical artist that specialized in many areas of expertise in Edmonton, Alberta. Having been in the creative industry for more than 5 years, I have been working with individual clients to medium sized companies in helping improve consumer exposure through a foundation of marketing mediums.
Throughout the years, I have developed my own sense in graphic, web design and marketing by incorporating ideas and innovation to help further advance marketing exposure for companies. I am an experienced artist that is able to gather necessary concepts and elements to fabricate an unique story on the projects that I work on.
I gained technical knowledge as a NAIT graduate and I take pride in showcasing my projects as I continually progress as an artist. I believe learning is a life long endeavor and will continue to seek new ways of improving my skills as an artist.
Below are the skills sets I have learned and developed over the years as a technical artist.
FIELD SKILL SET
Graphic Design
Business and Post Cards
Brochures
Product Catalogs
Corporate Logos
Magazine Ads
Automotive Wraps
Graphical Web Interfaces
Vector & Digital Illustrations
Graphical Manipulation
Photo Manipulation
Blue Prints
Web Design
CSS3 and HTML5
Graphical Themes
User Interface
Programming
PHP
MYSQL Database
Javascript
Logical Theory
ERD Database Tables
System Analysis
Object Oriented
Promotional Products
Lanyards
Stickers and Decals
Apparel Wear
Signage & Displays
Marketing
Vendor Event Coordinator
Strategies Disclosed
Photography
Product Presentation
Corporate & Charity Events
Technical Assistance
Network Administrator
Custom Built Computers
Software Maintenance
I.T Diagnostics
The marketing aspect plays a vital role in running a successful business. By capturing your audience with the proper marketing strategies, it allows the development of even greater innovations and to help build a strong identity of your brand. So let me tell a story about your business.